みなさん、こんにちは!
Mt. Fuji is very popular not only for Japanese but also for people form overseas.
Some of my school's students climb Mt. Fuji every year.
The number is increasing from about 200,000 (5 years ago) to 300,000 (last year).
From July 1st to Aug 31st which its mountain huts are open is the top season, there are about 5,000people are climbing every day during the two months.
Actually I have never climbed Mt. Fuji.
Then they ask me I am Japanese.
And the answer is I am Japanese for sure.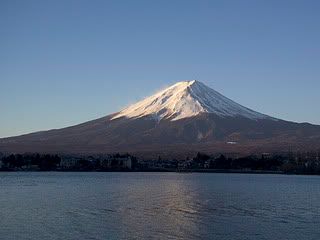 Wikipedia
富士山は日本人だけでなく海外からの方にも人気のある山です。
私の学校の生徒さん達も毎年必ず誰かが登っています。
5年前の約20万人から毎年増え続け、去年は約30万人が登りました。
山小屋のあいている7月1日から8月31日までがトップシーズンですから、その2カ月間で毎日約5000人が登っていることになります。
実は私は富士山に登ったことがありません。
よく生徒さん達に「日本人ですか?」と聞かれますが、はい、間違いなく日本人です!(笑)
- words & phrases -
富士山(ふじさん): Mt. Fuji
海外(かいがい)からの方(かた): people from overseas
人気(にんき)のある山(やま): a mountain which is very popular
私(わたし)の学校(がっこう)の生徒(せいと)さん達(たち)も: students of my school are also
毎年(まいとし): every year
必(かなら)ず: always,
誰(だれ)かが登(のぼ)っています: somebody climbs
5年前(ねんまえ): 5 years ago
約(やく)20万人(まんにん): about 200,000 people
増(ふ)え続(つづ)け: continuously increasing
去年(きょねん): last year
山小屋(やまごや): mountain cottage/hut/lodge
トップシーズン: top season
その2カ月間(かげつかん): the two months
毎日(まいにち): everyday
ことになります: end up, it means that
実(じつ)は: actually
間違(まちが)いなく: no doubt
(笑): LOL