みなさん、こんにちは!

今
日はスポーツニュースのヘッドラインを読んでみましょう。
ニュージーランドが快勝=ラグビー・ブレディスロー杯


ラグビーのニュージーランド代表とオーストラリア代表の定期戦、ブレディスローカップが31日、東京・国立競技場で行われ、ニュージーランドが32-19で快勝した。


-----
実は私もこの試合を見に行きました。

あまりルールも知らないし、初めて見る試合だったけど、とてもおもしろかったです。

またオーストラリア人とニュージーランド人がたくさん集まって、海外旅行に行った気分でした。

-
words & phrases –
快勝(かいしょう): easy win the game

~杯(はい): cup

代表(だいひょう): representatives

国立競技場(こくりつきょうぎじょ) : the National Stadium

見(み)に行(い)く: masu-form stem + 行く = to go to see

~し: to connect reasons

初(はじ)めて見(み)る試合(しあい): (noun modification) the game that I watch the first time

集(あつ)まる: intransitive, to gather   cf. 集める transitive, to collect

海外旅行(かいがいりょこう): oversea trips

~気分(きぶん): I have a feeling of ~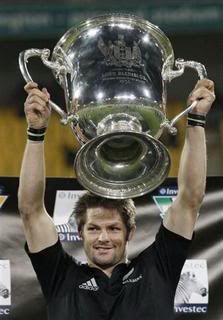 New Zealand easy victory = Rugby Bledisloe Cup

Rugby Bledisloe Cup, a routine match New Zealand vs Australia was held on October 31st, at the National Stadium in Tokyo.

New Zealand won beat Australia, scored 32-19.


Actually I went to see the game by myself too.

I do not know much about its rules and it was my first game to see, but I really enjoyed it.

There are many Aussies and Kiwis there, I felt like I had an oversea trip.


Haka