みなさん、こんにちは!
今日は"ニンテンドー3DS"のインターネットニュースを読みましょう。
We will read and Internet news of "Nintendo 3DS"today.
According to "Nintendo Everything" which is an Euro-American information site, Nitendo will release a new portable type game machine "Nitendoe 3DS" on November 11th, 2010.
This information was on a German print media called "TECH-FREAK".
They do not have an exact price information but the gamers predict 200-250 Euro if you look at their message board.
It seems like Nintendo will announce the exact release date and other information in the Nintendo Conference on September 29th,
But almost all people think they will release it in 2010.
Will it be released on November 11th?
We are really looking forward to it.
"TECH-FREAK" says it will be launched on the same day in Japan and north America, for Europe it will be in 2011 spring.
The game software which will be also on sale are "Mario Kart 3D" and "Professor Layton" series and "Zelda" series.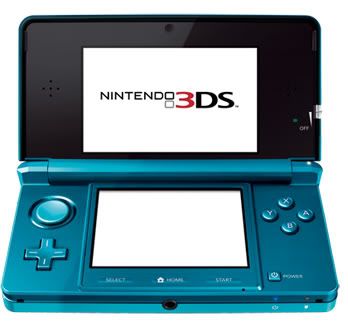 Nintendo WebSite
新事実! 『ニンテンドー3DS』2010年11月11日(木曜日)に発売か
2010年9月27日
欧米のゲーム情報サイト『Nintendo Everything』は、任天堂の最新型携帯ゲーム機『ニンテンドー3DS』が2010年11月11日(木曜日)に発売されると報じている。
 欧米(おうべい): Europe and America
 情報(じょうほう): information
 任天堂(にんてんどう): Nintendo
 最新型(さいしんがた): the latest model
 携帯(けいたい): portable, mobile
 ゲーム機(き): game machine
 木曜日(もくようび): Thursday
 発売(はつばい)される: be released
 ~と報(ほう)じている: they say ~, it is said ~
この情報のソースは、ドイツの『TECH-FREAK』という紙媒体の誌面に掲載されていた情報によるもの。
 紙(かみ)媒体(ばいたい): paper/print media
 誌面(しめん): in a magazine
 掲載(けいさい)されていた: was contained, was written, placed in
 ~による: according to ~
価格はハッキリとしていないが、ヨーロッパのゲーム掲示板を見てみると、ゲーマーたちは『ニンテンドー3DS』が200~250ユーロで販売されると予想しているようだ。
 価格(かかく): price
 はっきりとしていない: not clear
 掲示板(けいじばん): message board
 販売(はんばい)される: will be sold
 予想(よそう)する: predict, expect,
2010年9月29日の任天堂カンファレンスでハッキリとした発売日などの公式情報が公開されるらしいが、ほとんどの人たちが2010年内に発売すると予想しているようだ。
 公式(こうしき): official
 ゲーマー達(たち): gamers, 達express plurals
はたして、本当に2010年11月11日(木曜日)に発売されるのか? 発表が今から楽しみである。
 はたして~か?: will it be happen as we expect?
 発表(はっぴょう): announcement
 楽(たの)しみである: looking forward to it
ちなみに、そのドイツの『TECH-FREAK』によると、日本と北米が同時発売され、ヨーロッパでは2011年の春に発売されるという。
 ちなみに: incidentally, for your information, just to tell you
 北米(ほくべい): north America
 同時(どうじ): at the same time
また、本体と同時発売されるゲームソフトは、『マリオカート3D』と『レイトン教授』シリーズ、『ゼルダ』シリーズとのこと。
 また: and, more over
 本体(ほんたい): machine itself
 教授(きょうじゅ): professor
 とのこと: it is said that