みなさん、こんにちは!


Susan Boyle, Scottish diva, arrived at Narita yesterday.
It is her first visit to Japan.
She will sing as a guest singer in a NHK TV program called "Kohaku Utagassen" which is aired on the New Year's Eve every year.
I am not found of it personally but I am very much looking forward to her singing.
There is only one day left in this year, 2009.
How was the year for you?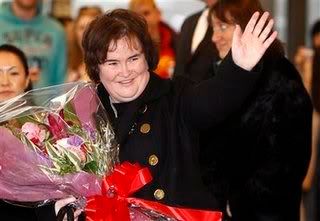 AFP News
スコットランドの歌姫、スーザン・ボイルさんが昨日成田に到着しました。
初来日です。
彼女は明日31日のテレビ番組、毎年おおみそかに放映されるNHK 紅白歌合戦にゲスト出演して、あのすばらしい歌声を披露してくれます。
その番組は個人的にはあまり好きではないのですが、彼女の歌はとても楽しみにしています。
2009年もあと1日だけになりました。
みなさん、今年はどんな年でしたか?



- words & phrases -
歌姫(うたひめ): ディーヴァ(diva)
成田(なりた): Narita International Airport
到着(とうちゃく)した: arrived at
初来日(はつらいにち): first visit to Japan
テレビ番組(ばんぐみ): TV program
おおみそか: new year's eve
放映(ほうえい)される: will be airing
NHK: Nippon Hoso Kyokai = The Japanese public broadcasting corporation
紅白(こうはく)歌合戦(うたがっせん): an annual music show on New Year's Eve produced by NHK
ゲスト出演(しゅつえん): guest staring
歌声(うたごえ): voice, singing
披露(ひろう)する: thrown down, exhibit
個人的(こじんてき)に: personally
あまり好(す)きではない: あまり+V/Adj negative = not really
楽(たの)しみにしている: I have been looking forward to